I know, I'm lame. I totally missed my own party last week. I apologize. My sister came to visit for a week and a half and now we have more family in town and I work from home... I just plum forgot. That just means this week's party will be twice as awesome.
Here is the last project I posted about. Don't worry I have a handful that are just about ready to show you and a free printable coming up.
And some really cool features from our last party.
Meanwhile,
The Learner Observer
, shows us this cool polka dot painted bowl using none other than a gold sharpie. Rad, right?
Lilikoi Joy
gives her dressing table its own makeover and I love her inspiration photos!
As I sit here feeling guilty about all the crap I've eaten the last (well I won't tell you how long), I see recipes like this Raw Apple Cereal from
A Life Unprocessed
and wonder why I'm still eating the way I am. Seriously go check out her recipes, they look delicious.
Finally, we have these Rainbow Wrapped Marshmallows from
Smart School House
. I know St. Patrick's day is over but they would be a fun spring snack as well.
Thanks to everyone who participated last week!
Are you ready for this week's party?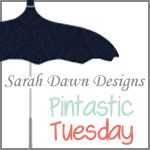 Pin Party Rules:
1) Visit at least two other links and pin two projects from the authors' blog.
2.) Add my button somewhere on your blog, whether it is in the post itself or on the side.
3.) Link to a specific post and it must be something you wrote or created.
4.) No give-aways or other link parties.
I would love if you would follow me as well, but it is not a requirement.
Of course you can find me on
Pinterest
too. I'll follow back if you leave your Pinterest link in the comments section.
Get your pins ready, get set, GO!
*By submitting your links/projects you are giving others permission to pin your projects to Pinterest as well as giving me permission to use your photo/s should I choose to feature you. If you have any questions you can email me at info@sarahdawndesigns.com*
*Each participant is responsible for complying with Pinterest's Terms of Use and Sarah Dawn Designs cannot be held responsible should those terms be broken.*