I hope you all had a fabulous weekend. I spent mine with friends, family, and some beautiful weather. I'm getting excited for spring and am on the hunt for some project inspiration. So let's get partying :)
Last week I did manage to get another post up (I have lots to tell you all).
I have the opportunity to
design my own rug
and am having a hard time committing to a design and room where I want the rug. What would you do?
We have some fabulous features this week.
Sewing Barefoot
is showing off her infinity scarf. I want one but crocheting is not my thing yet. She assures us that it is fairly simple and I'm tempted to try it.
Today I am trying to come up with a two week menu and could really use some new recipes. I was so excited when I saw these Lettuce Wraps from
Domestic Superhero
. They look so yummy!
Another thing I am in search of is some fun hooded towel tutorials like this one from
Crazy Little Projects
.
I'm sad to say I didn't get any Easter decorations up this year. I do have lots of ideas though for next year. On that list are these wooden eggs on a stick from
The Messy Roost
.
Last but not least we have the tried-true method for preserving our strawberries' life a little bit longer from
The Pin Junkie
.
Thanks to everyone who participated last week!
Are you ready for this week's party?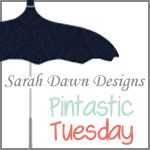 Pin Party Rules:
1) Visit at least two other links and pin two projects from the authors' blog.
2.) Add my button somewhere on your blog, whether it is in the post itself or on the side.
3.) Link to a specific post and it must be something you wrote or created.
4.) No give-aways or other link parties.
I would love if you would follow me as well, but it is not a requirement.
Of course you can find me on
Pinterest
too. I'll follow back if you leave your Pinterest link in the comments section.
Get your pins ready, get set, GO!
*By submitting your links/projects you are giving others permission to pin your projects to Pinterest as well as giving me permission to use your photo/s should I choose to feature you. If you have any questions you can email me at info@sarahdawndesigns.com*
*Each participant is responsible for complying with Pinterest's Terms of Use and Sarah Dawn Designs cannot be held responsible should those terms be broken.*