On to the fabulous features from last week's party.
Our most viewed link was this chest of drawers.
My Passion for Decor
made this beautiful piece of furniture. I recently found her blog through a link party and LOVE her work.
Over the last couple weeks I have been looking for unique ways to fill my IKEA shelves when I stumbled up this beauty from
Live, Love, Laugh - Interior Design
. The texture of these egg cartons is AMAZING and if you know me, I'm a sucker for texture. Even more its a great recycling project.
In my classes for Interior Design we were drilled with the fact that lightening can make or break a design. Unfortunately, for the average person we have stock made ceiling fixtures that are hideous! *Enter
West Furniture Revival
* She showed that ugly fixture who was boss by installing this inexpensive and easy pendant lamp.
One year for Christmas, my brothers and I got a car mat from my mom somewhat like the one
Small Things with Love
made. It was one of the coolest handmade things ever and to this day my younger siblings use it.
Finally, my last feature comes from
Pincushion Creations
. I love Dill Pickles but am terrified of pressure canning by myself. I was really excited to find this recipe that does not require me to face this fear but still find a way to be a little more self reliant.
If you were featured here at Sarah Dawn Designs and want to grab a button you can find it on my sidebar.
Thank-you to all who participated last week, I know I saw some of your pins floating around Pinterest. Be sure to pin other's projects, it helps us all.

Are you ready for this week's party?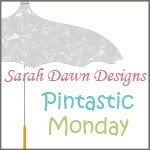 Pin Party Rules:
1) Visit at least two other links and pin two projects from the authors' blog.
2.) Add my button somewhere on your blog, whether it is in the post itself or on the side.
3.) Link to a specific post and it must be something you wrote or created.
4.) No give-aways or other link parties.
5.) Please limit your submissions to 3 or 4 projects.
I would love if you would follow me as well, but it is not a requirement.
Of course you can find me on
Pinterest
too. I'll follow back if you leave your Pinterest link in the comments section.
Get your pins ready, get set, GO!
*By submitting your links/projects you are giving others permission to pin your projects to Pinterest as well as giving me permission to use your photo/s should I choose to feature you. If you have any questions you can email me at info@sarahdawndesigns.com*
*Each participant is responsible for complying with Pinterest's Terms of Use and Sarah Dawn Designs cannot be held responsible should those terms be broken.*