Happy Monday! I've been debating moving Pintastic Monday to Tuesday? What are your thoughts? I find that the weekend seems to get away from me and the link party just never gets up on time. While I still haven't gotten in my "regular" schedule I have been able to get a project or two done. Here is what I was up to last week.
I know that this post is actually from last year but as a result of another miscarriage I did end up doing this for my husband and am excited to give the
14 Days of Valentines
a go this year to help keep the romance alive.
We had some great posts linked up last week here are a few features:
How cute are these Cubcakes from the
Seven Year Cottage
? They would be perfect to celebrate winter, yes I said celebrate winter.
If you want to know what my favorite product to help with winter dryness it is Coconut Oil and
Krysta Steen
shares 18 of her favorites uses.
Sometimes I wish I were more ambitious with my sewing to do things like this Ruffle Apron from
Crafty Mis-Adventures
Finally what would a Pin Party be without some chevron. Check out this Chevron Bench from
My Love 2 Create
.
Are you ready for this week's party?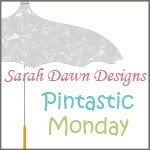 Pin Party Rules:
1) Visit at least two other links and pin two projects from the authors' blog.
2.) Add my button somewhere on your blog, whether it is in the post itself or on the side.
3.) Link to a specific post and it must be something you wrote or created.
4.) No give-aways or other link parties.
I would love if you would follow me as well, but it is not a requirement.
Of course you can find me on
Pinterest
too. I'll follow back if you leave your Pinterest link in the comments section.
Get your pins ready, get set, GO!
*By submitting your links/projects you are giving others permission to pin your projects to Pinterest as well as giving me permission to use your photo/s should I choose to feature you. If you have any questions you can email me at info@sarahdawndesigns.com*
*Each participant is responsible for complying with Pinterest's Terms of Use and Sarah Dawn Designs cannot be held responsible should those terms be broken.*