Ok this time for REAL I'm back on track with Pintastic Monday. I wasn't counting on the internet company taking so long to connect our router with this move. After all we stayed with the same company and already had the router, they didn't even have to come to our house. Regardless I'm ready to get 2013 rolling with a Pin Party and share with you some of my favorite posts from last year.
Here are my top 5:
I love creating cards and announcements for clients and I love how graphic and modern weddings are going. (Don't tell the husband, but sometimes I wish I could go back and replan our wedding). Here is my
wedding announcement package
available for both download and to order.
My favorite craft of the year was none other than my
Twine Pumpkin
made from a toilet paper roll and my favorite food related project was the
Superhero Cake
I made for the husband.
The most meaningful project of last year was probably the giant
3-D 60
I made out of cardboard and photos.
Finally most adorable was the
dinosaur baby shower invite
I created for a client (and is now available on my site).
2013 is going to be great and I have lots of content and projects to get posted this month, including a super easy Valentines Day Project I will post later today.
Now onto the features from our party 2 weeks ago:
Katie with and E
throws one heck of a News Year party. I want those close plates!
One Creative Mommy
posted a great tutorial on lengthening any skirt by adding some fun ribbon. I love ruffles!
Like me,
The Crafty Blog Stalker
has posted some of her favorite posts from 2012 and has lots of great ideas. How cute are these Snowman Kisses?
Last but not least we have this awesome gift idea for those special people in our lives.
Just Dawnelle
shares with us the anniversary gift she made for her husband AND offers a free download for us to be able to make one of our own.
Are you ready for this week's party?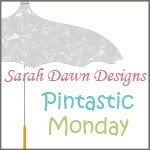 Pin Party Rules:
1) Visit at least two other links and pin two projects from the authors' blog.
2.) Add my button somewhere on your blog, whether it is in the post itself or on the side.
3.) Link to a specific post and it must be something you wrote or created.
4.) No give-aways or other link parties.
I would love if you would follow me as well, but it is not a requirement.
Of course you can find me on
Pinterest
too. I'll follow back if you leave your Pinterest link in the comments section.
Get your pins ready, get set, GO!
*By submitting your links/projects you are giving others permission to pin your projects to Pinterest as well as giving me permission to use your photo/s should I choose to feature you. If you have any questions you can email me at info@sarahdawndesigns.com*
*Each participant is responsible for complying with Pinterest's Terms of Use and Sarah Dawn Designs cannot be held responsible should those terms be broken.*