Welcome to our first official Pinatstic Tuesday. All sorts of exciting things are happening around here including a blog make-over that is almost ready for a reveal. In the meantime I hope you will link up your favorite projects this week and perhaps even find one or two that are Pin worthy.
Last week I shared some
color tips
for find the right color palette whether it be for family photos or your next living room scheme.
As for our features:
Check out these Salt Luminaries from
Craftiments
. What a cool project to try. It's so subtle yet beautiful.
And I love this bird cage canvas from
Kaminski Creations
. She made her own decorative "paper."
Here's a project I really want to try, Dip Dye Shirts from
Wunderbar
. I already think I know which color I want to use.
24 Cottonwood Lane
teaches us how to upcycle an old door into a craft room desk. I must admit, I'm a little jealous of her craft room.
Finally,
Krysta Steen
shares her secrets for cleaning pillows. This is definitely something I don't do often enough and I am a germ-a-phob at heart.
Are you ready for this week's party?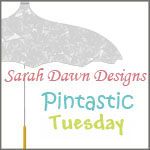 Pin Party Rules:
1) Visit at least two other links and pin two projects from the authors' blog.
2.) Add my button somewhere on your blog, whether it is in the post itself or on the side.
3.) Link to a specific post and it must be something you wrote or created.
4.) No give-aways or other link parties.
I would love if you would follow me as well, but it is not a requirement.
Of course you can find me on
Pinterest
too. I'll follow back if you leave your Pinterest link in the comments section.
Get your pins ready, get set, GO!
*By submitting your links/projects you are giving others permission to pin your projects to Pinterest as well as giving me permission to use your photo/s should I choose to feature you. If you have any questions you can email me at info@sarahdawndesigns.com*
*Each participant is responsible for complying with Pinterest's Terms of Use and Sarah Dawn Designs cannot be held responsible should those terms be broken.*